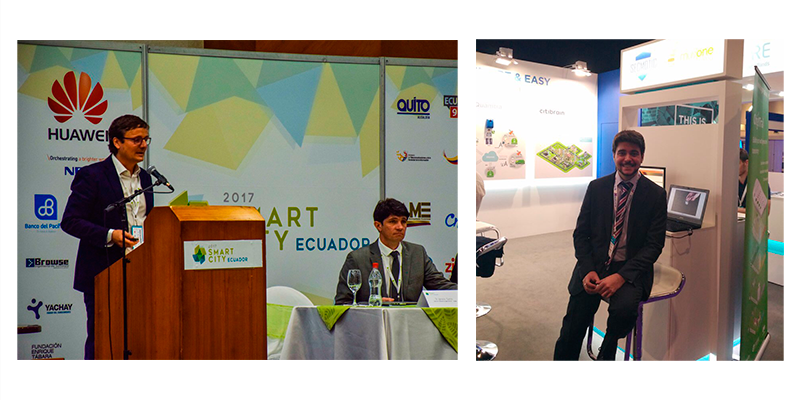 07 Jul

FIWOO International Dissemination

The consortium created by Bosnit, Emergya, JIG and Secmotic stars to spread the utility of the FIWOO Platform worldwide, mostly at events related with Smart Cities and Internet of Things.

Examples of these events where FIWOO has been presented are the Internet of Things World Europe in London (UK) and the 1st International Smart Cities Congress in Quito (Ecuador).

Secmotic attended at the Internet of Things World Europe. This event took place between 13th and 15th June in London (UK). Carlos Corrales (COO) and José Benitez (CEO) were presenting their IoT Solutions, including FIWOO, with their own booth inside the FIWARE Zone at the IoT World Europe. Secmotic created a brochure including the FIWOO main information, but also presenting other products like its Muvone wearable device.

This event is one of the most important events inside the field of the Internet of Things (IoT). This term refers to a connected world in all spheres on a daily basis. On the other hand, this meeting is part of the TechXLR8, which is a technology festival in the heart of London Tech Week: a week to enjoy events throughout the city; a week to push the city in the first position in innovation and technological development.

Most recently, JIG attended at Smart City Ecuador 2017, the 1st International Smart Cities Congress in Quito (Ecuador).

Ignacio Gurría, CEO of JIG was in charge of opening the congress with a round table talking about the evolution of the Smart Cities solutions but also with a master presentation as a lecturer talking about the engineering applied to the Smart Cities, talking about FIWOO and the SmartAppCity mobile application. During both days, JIG counted on a booth where the different municipalities asked about its solutions.

The congress relied on speakers from Colombia, Chile, Spain, Panama and Ecuador, who addressed issues related to the overview of a Smart City and its experiences.