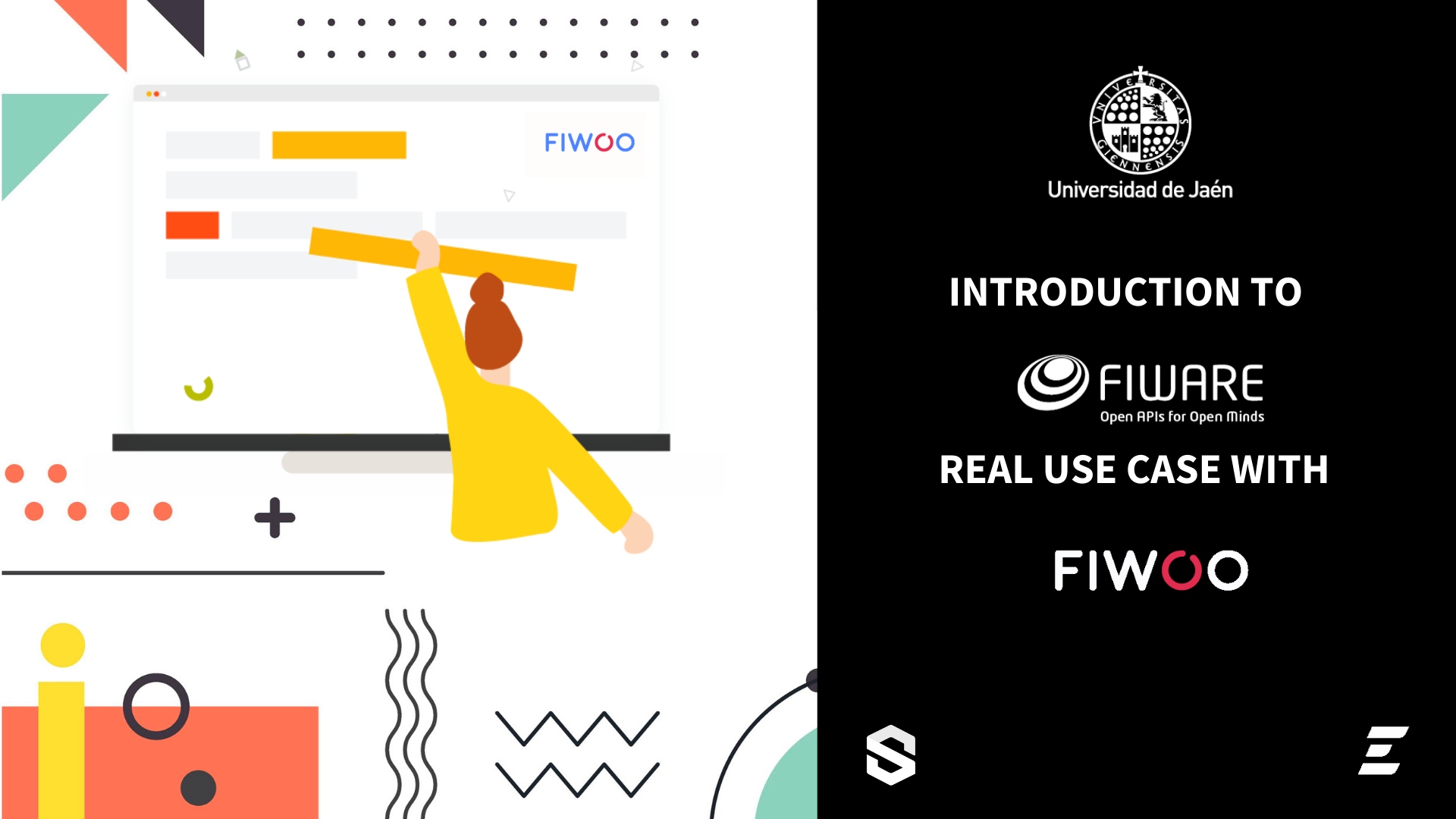 03 Jun

FIWARE and FIWOO are presented at the University of Jaén

First day of University for FIWOO. Next Thursday we'll give a Master class talking about FIWARE and FIWOO. This has been possible thanks to the University of Jaén (Spain). Carlos Corrales, COO and Founder at Secmotic will be in charge of the Masterclass and Manuel Giménez, Head of R&D at Emergya will be giving a talk at a conference. Therefore, the Master of Science in Mechatronics Engineering at this university will be able to see in action the capabilities and features that make up both FIWARE and our FIWOO IoT platform.
Introduction to FIWARE
FIWARE is an open source community made up of end-users, developers, and many other relevant actors that drive the development of smart solutions in a faster, easier, interoperable, and affordable way that avoids vendor lock-in scenarios. It is present in more than 140 cities and has 15 active iHubs around the world.
In addition, FIWARE has established strategic partnerships with important organizations such as GSMA, TM Forum, Connecting Europe Facility (CEF), and the European Standards institution ETSI, in charge of standardization within the Smart Cities, between others.
To sum it up, FIWARE offers an unprecedented curated framework of open source platform components to accelerate the development of smart solutions.
FIWOO, the FIWARE-based IoT Platform
FIWOO is a multi-purpose IoT platform that aggregates information from different data sources and allows to extract knowledge. The ultimate goal is to provide smart solutions to the digitization needs of different markets. Therefore, FIWOO is intended to serve different customers in different sectors:
Smart City
FIWOO offers a complete software and hardware product that is user-centric and provides city managers with an integrated overview of their city.
IoT Industrial
FIWOO allows you to access, analyze, and act on the data your industry provides to extract value.
Smart Port
It helps build the port of the future. A port that is connected, secure, green, integrated with the city, and smart.
FIWARE and FIWOO at the Jaén University
In these two sessions we will talk about the two companies involved in the development process of the IoT platform, Emergya and Secmotic. We'll take a look at the success stories to give you a full insight into the power of FIWOO.
And we will get to know in depth the two main topics. 
What is FIWARE?
Microservices (Generic Enablers, GEs) that give some functionality to Smart applications (Internet of Things and Smart X).
The heart of FIWARE is based on a component called Orion Context Broker, which handles context information from different systems.
Any FIWARE project will need to integrate Orion Context Broker to handle context information, so that in the future more FIWARE based technologies and solutions can be used. Interoperability thanks to NGSI (Next Generation Service Interface).
More Generic Enablers 
We will also have time to look at the following Generic Enablers:
An IoT Agent is a component that lets a group of devices send their data to and be managed from a Context Broker using their own native protocols.
GE Cygnus is a connector in charge of persisting certain sources of data in certain configured third-party storages, creating a historical view of such data.
The GE Short Time Historic:  Storage and retrieval of historical raw and aggregate data.
Perseo CEP defined using a rules-based system.
Keyrock is the FIWARE component responsible for Identity Management.
Wilma PEP Proxy can be combined with other security components such as Keyrock and Authzforce to enforce access control to your backend applications.
We will also leave the theoretical part for a while and get into the practical part. We will do a small workshop based on FIWARE to reinforce the knowledge with a purely FIWARE infrastructure with an IoT Agent and Orion Context Broker for testing. Finally, we will see a live demo of the IoT platform.
Contact us for more info!
Do not hesitate to contact us if you have any questions about our product!