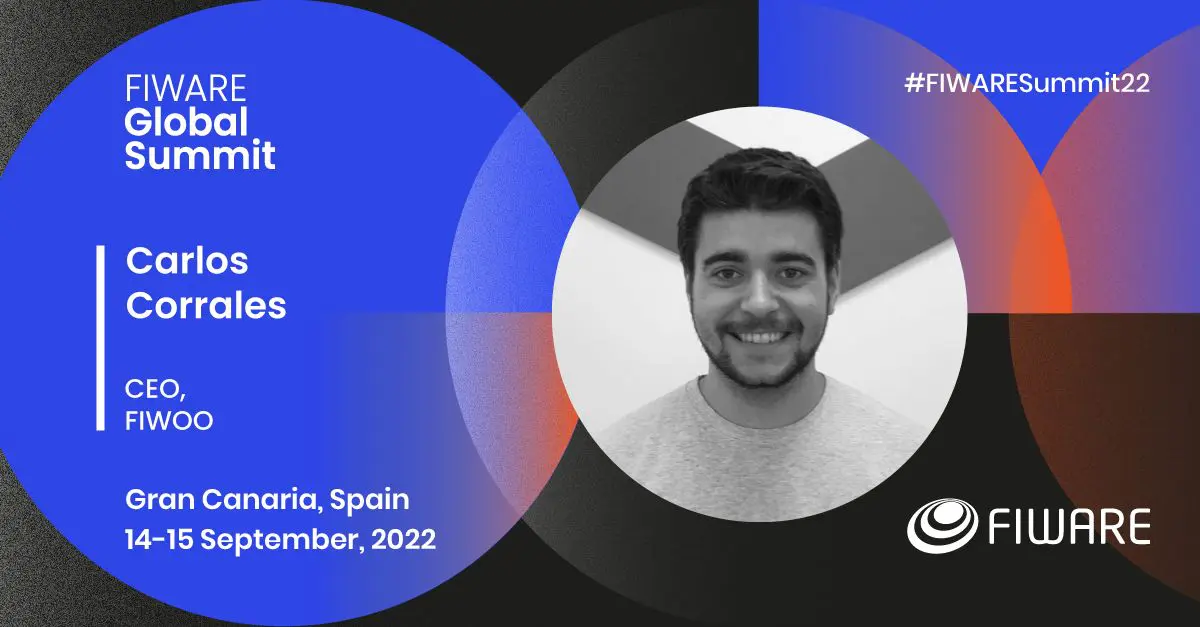 29 Aug

FIWOO will be at the FIWARE Summit of Gran Canaria

Las Palmas de Gran Canaria has been the chosen venue for the eighth edition of the FIWARE Summit. FIWOO did not want to miss this event and we will be an active part of this extraordinary event. Our CEO, Carlos Corrales, will give a talk about our platform.

And it has been possible thanks to FIWARE with the support of the Cabildo de Gran Canaria, the Sociedad de Promoción Económica de Gran Canaria (SPEGC) and the collaboration of CidiHub, FIIHub and Innovalia.
FIWARE Summit is back (finally)
.
The global meeting for digital transformation through open source standard technologies is back and ready! This event seeks to promote the development of innovation ecosystems that favor economic development and offer opportunities to all types of companies, particularly SMEs and start-ups.
The importance of this event is marked by numbers. The FIWARE ecosystem now reaches more than 10,000 people. It is adopted in more than 250 smart cities around the world. And finally, FIWARE technology is also making its way into the fields of agricultural, industrial and environmental (energy and water) production.
FIWARE represents a global expansion and acceleration opportunity for startups and companies focused on developing smart solutions in these fields.
Each FIWARE Global Summit is a golden opportunity for those startups or SMEs looking for FIWARE training, partners and references for the digitization and diversification of their business using this open source technology.
FIWOO is not missing this opportunity
.
Carlos Corrales, CEO of FIWOO, will give a talk with this title: "The interoperable solution of FIWOO for City Council of Alcázar de San Juan". This talk will mainly explain what FIWOO is and its characteristics, and then talk about the project in Alcazar de San Juan, its development and results.
Do not miss these days our social networks as we will inform you how you can access the talk online.
In any case, we will be available during the two days of the event to answer any questions and information about us and/or our platform.
Meet the Agenda
.
The event will feature a main conference on September 14, focused on Smart Cities, Territories and Communities, with special attention to the development of the concept of smart tourist destination. The 15th will focus on other sectors such as industry, energy, agriculture and ports.
In addition, the latest innovations in technologies such as blockchain, artificial intelligence, digital twins, robotics, or technologies linked to the creation of spaces and data economy will be presented. With special attention to entrepreneurs, digital innovation hubs, universities and the scientific community in a track focused on digital transformation initiatives, business development and funding opportunities and skills development.
The FIWARE mission
.
The FIWARE Foundation together with its partners and members, of which Secmotic is part, drives the definition – and open source implementation – of key open standards that enable the development of replicable and interoperable smart solutions in a faster, simpler and more affordable way, avoiding vendor lock-in, while fostering FIWARE as a sustainable, innovation-driven business ecosystem. Serving diverse domains, FIWARE is today the world's leading open source technology for the digitization of smart cities and regions.
See you at the FIWARE Summit of Gran Canaria